Meet two young women, twin sisters who represent the real meaning of the word 'Cosmopolit'. They were born and raised in Vienna and Croatia, live and reside between, Vienna, Croatia, Madrid, London, New York and any other city that offers them something interesting.
These ladies are namely fashion-oriented, and they manage to turn their passion into a lifestyle. They blog about it on desjen.com. And this is what Fashionistas noted about Zagreb.
Casual Chic in Zagreb
'During spring Jen and I spent a lot of time travelling, but we managed to find some time to brilliantly spend one weekend in Zagreb. Of course, besides meeting friends there was a lot to do. All we wanted to do was make some beautiful pictures. On the day, we did them the weather could simply have not been better. I chose to wear something utterly casual yet effortless and chic at the same time. When I stumbled across this amazing oversized trench coat from Maison Margiela in Maria Store, I didn't even think twice before taking it; I would say it was love at first sight. What I loved most on the coat was its shape and the elaborate details such as the snap buttons. Since I like to wear natural colors I combined the coat with a black turtleneck sweater and a black satin stripe flared leg trousers by Saint Laurent together with heels by…and matched it all together with a tricolor Luggage Tote and a cool pair of sunglasses, both from Celine. Jen decided to wear this beautiful olive-green parka by Valentino with colourful butterfly details (isn't that embroidery gorgeous?) and paired it with heels by Alexander Wang. To give this look a special note, she took the red sunglasses from Celine and a navy blue Sac De Jour Bag from Saint Laurent.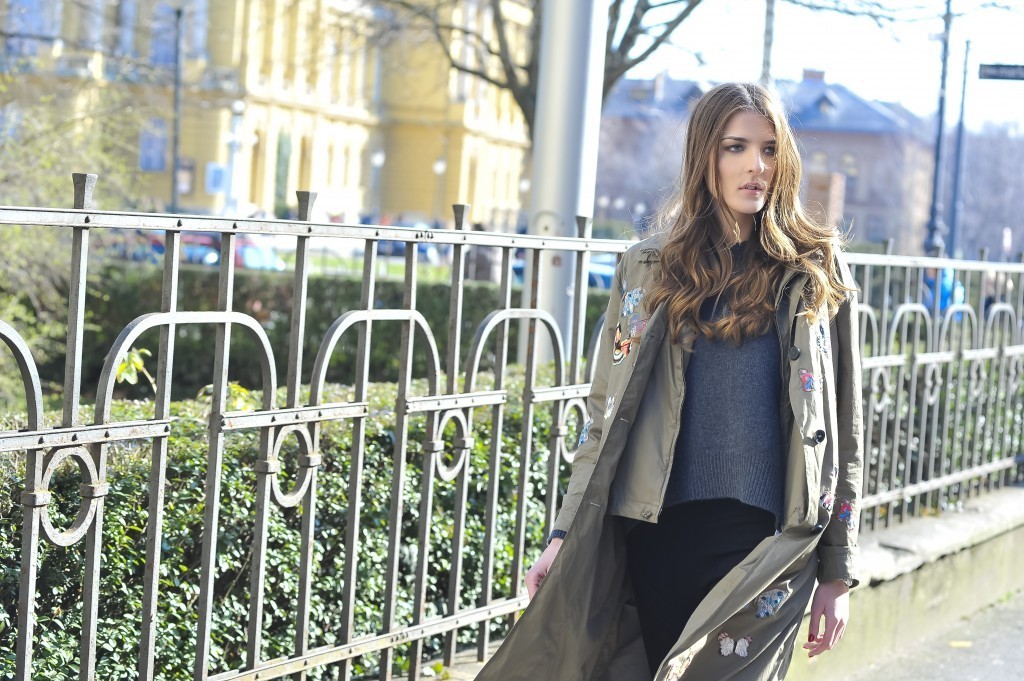 Croatian capital worth visiting
When we travel to Croatia we always like to stop by Maria Store. If you guys remember, we have already talked about the multi-brand store in a previous post. There is a total of three stores you can find in Croatia, two in Dubrovnik and one in Zagreb, all located in the hearts of the respective city centers. What I can certainly say is that it is the number one multibrand store in Croatia, and not to mention what a great selection of stylish items they have, among others brands such as Céline, Balenciaga, Givenchy and Alaia. All their stores are quite small, nevertheless they are well stocked, and definitely worth visiting if you happen to be in one of the two cities. Hope you guys like the looks!'
Comments
comments