At the end of the street called Nad Tunelom begins Medvednicas' most popular hiking trail – Bikcevic trail.  It can be reached by car or tram. If you arrive by car, there is a small parking lot at the outset of Bikcevic path, at the end of the street Nad Tunelom (literary translated as Above the tunnel). If you plan to arrive by tram, take numbers 8 or 14 to Mihaljevac, and from Mihaljevac take number 15 to the tunnel. Just go through the tunnel, and after ca 200 meters (700 feet) climb the steps that will lead directly below the cable car. Go down the short road to the parking lot where you will find the beginning of the most famous trails Bikcevic and Leustek.
This trail was named after the famous Croatian mountaineer Tomislav Bikcevic (1915-1986) who was born in Slavonia. He used to work (and climb) all over former Yugoslavia and then finally came to work on revitalizing forests and green surfaces in Zagreb and Medvednica.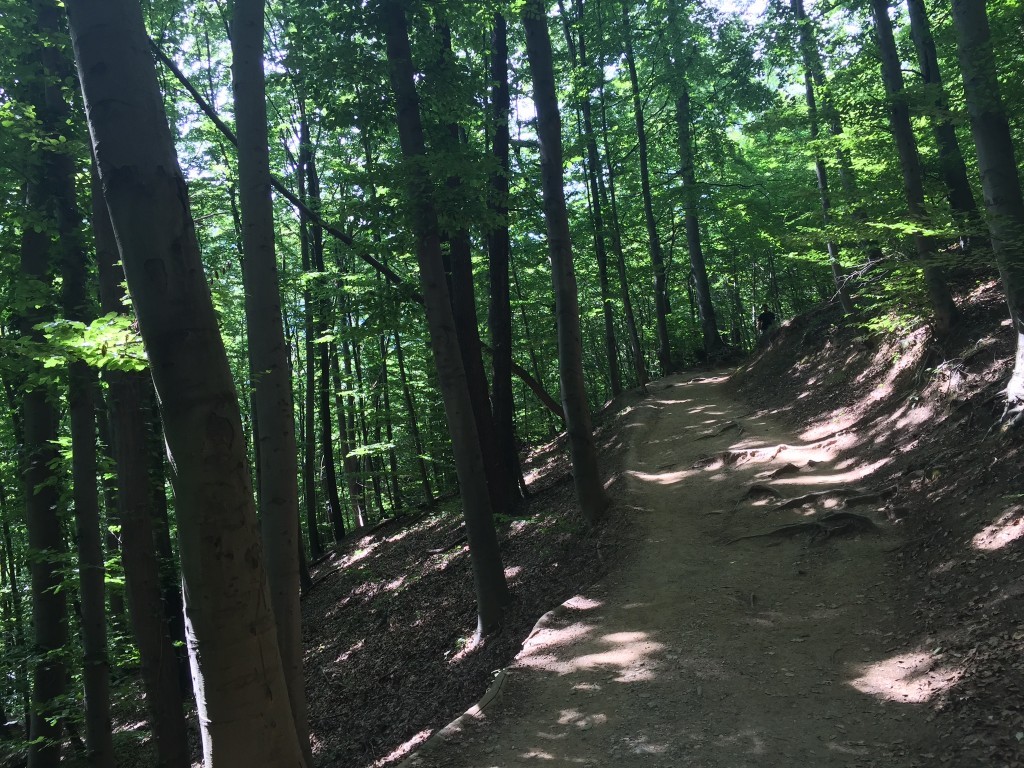 We started our tour in the morning when the city was quite warm at a relatively high temperature of 30 degrees Celsius (86 F). But as soon as we had entered the beautiful forest tracks, the expected refreshment from the city heat welcomed us with open arms. With an easy pace, we started our ascent to the desired destination – the mountain house Puntijarka. For about an hour and 30 minutes, with a short break at a nice little resting place Njivice where we drank the water from the spring and gathered our strength for the remaining hike, we arrived at the top. The trail is about 5.2 kilometers long (3.2 miles), in some parts quite steep; more experienced mountaineers classified it as demanding.
That is why for this trip we recommend bringing comfortable and safe shoes, a spare shirt, something warmer to wear depending on the weather, and a bottle of water. Of course, it is possible to bring food, but there is no need because the mountain house Puntijarka offers excellent traditional dishes like baked beans, barbecue, chicken with mlinci (a sort of pastry) and a variety of cakes. For a nice picnic on Medvednica and a great exercise 50 kunas is enough money to spare because the prices of food and drinks are quite affordable.
If you decide not to descend on foot, buses leave every hour from the Tomislav House and the ticket price is only 11 kunas.
For more information about the trails please visit. 
Comments